Description
We like our Land Rovers, and so all our Defender systems have been designed, built and tested in house by our passionate engineers.
Our 110/130 Systems come with 2 Tailpipe options, either the Standard Out Rolled, or the 300 Style Slash, both with our tasty 'demand' Branding.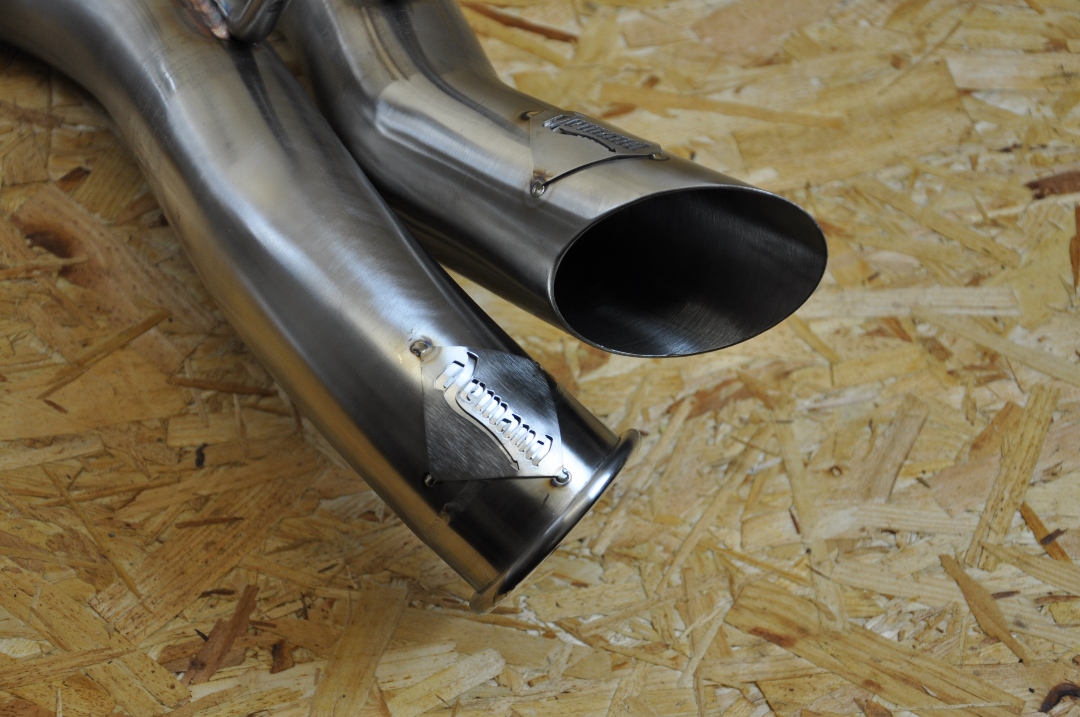 Size Matters
Every system is fully T304 stainless, Fully TIG welded by hand and Back-purged to ensure the best quality.  We use 2.5″ diameter Stainless T304 Tube, Mandrel Bent in house.
This diameter of Tube, has been used in turbo applications by us for engines up to 450Bhp, and is therefore more than adequate for a well tuned Land Rover.  Should you wish for a 3″ or even bigger system, don't forget that we can make you  a custom one-off with a visit to us in Sunny* Suffolk.
Don't be a Dummy
The Euro 5 compliant 2.2 Defender is fitted with a Diesel Particulate Filter (DPF) as standard.  Although a very restrictive part of the exhaust, these are essential for the Defender to comply with European Emission Legislation, and need to be present and working correctly in order to pass a UK MOT.  We offer a DPF and Cat replacement pipes intended for Off road/ROW use only.  During checkout you will need to agree to our terms and conditions of sale relating specifically to the sale of our DPF and Cat replacement products.  This DPF section comes in 2 varieties, one with all the shield fixtures and sensor bosses present, and one with just the Lambda Sensor Boss.  Both products are supplied with blanking plugs.  You will require an ecu remap, or similar to use a DPF replacement product.
Material world
Our silencers are filled with a mixture of stainless wool, and Glass Fibre mat which allows for a 'solid and deep' accoustic sound.  Nothing like the 'tinny' sounding traditional Stainless Exhausts of old.
Our Flexible joints are carefully made with three walls to provide great reliability, and are completely T304 stainless, unlike a lot of our competition.
Our Flanges are Laser cut, again in T304 stainless, and carefully mirror the flange positions of the Land Rover OEM systems.  This means that any section should be fully compatible with a Land Rover OEM one.  Please ensure that you have the OEM Land Rover exhaust fitted before relying on this.  We have had so many people come back to us having tried to replace a PATTERN exhaust section with one of ours.  If in doubt go for an entire system.  It'll be the last exhaust you buy.
Our hangers are T304 stainless, like the rest of the exhaust, they're basic and they work.
Fitted?
Our exhausts are supplied with Gaskets, and Stainless nuts and bolts where appropriate.  We offer a fixed price £60 fitting charge here in our workshops in sunny* Suffolk.
Prices
Our Prices shown here include VAT.
Don't stop now!
As we get more and more requests, we will be adding further options to the shop for Cats, Silencers, tailpipes, and sound.  We have a Valved system currently in development that we're very excited about!
*sometimes. Occasionally.