Wee Ratty, new chassis..
Like most defender owners, I would say, we have a love affair with a soft top 90. reminiscent of the early Series Land Rovers with its basic canvas roof, quintessentially British you might say, its a ridiculous blend of off road capability, and impracticality and amazing fun 🙂 Ours is a member of the family.
It started life as a truck cab, and, from what we can tell spent a large amount of its life towing, presumably a livestock trailer around northern Ireland; the tow plate hole was oval. It's dented and battered, no door card, seats ripped; the cab had so much filth, it took 2 days to clean out. The photos on which the purchase was based, reflected the true nature of what a hard worked Land Rover this had been, but although beaten half to death, it drove surprisingly well, and had an eager engine which easily sprang into life, despite the dead rat on top of the cylinder head. Sure the belt squeaked more than the expired passenger, and the exhaust gasket positively howled, but we fell for it all. Suckers for a fixer-upper.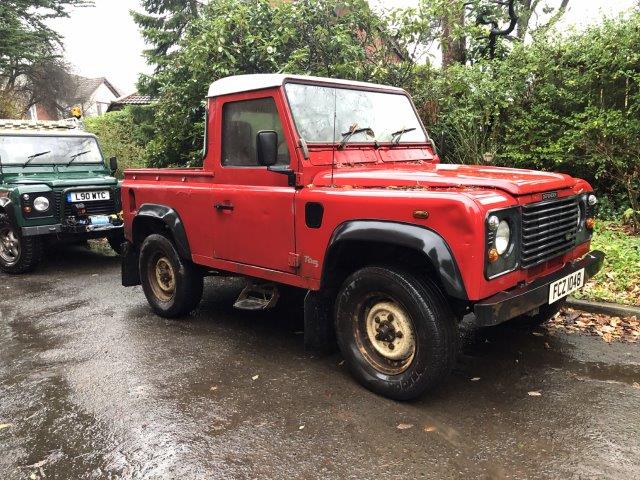 My long time friend Trevor Cuthbert was persuaded to part with it (even he was surprised he did that) ..and we arranged to collect 'Ratty' halfway towards the ferry terminal in Birkenhead, when Trevor was collecting chassis next from Richards in Doncaster.
Since then, we've done little to it really, changed the wheels, scraped together parts of a soft top for the summer months, and bought a new canvas, installed some rear seats, oh and fixed the door which didn't open. It still doesn't have a decent stereo, and the seats are still ripped.
The thing is, this underwhelming 'nail' Land Rover has become an integral part of the family.
From winter-windscreen-ice-scraped school runs, 3 in front, practising French vocab for an upcoming test, to towing the big caravan, 4 of us and the dog, up to North Norfolk for a beach holiday, stuffed with surf boards and blankets.
Ratty is our dog's favourite ride as well. He's a stressy traveller, and seems calmest on the bench seat with his chin on my lap.
We use it for exhaust development at work, and its towed all sorts of trailers all over the place. Its always on the show stand…
…And then there was the welding… and the dreaded MOT. (You can see where this is going) A new Richards Chassis. Covid notwithstanding, a pilgrimage was organised in true Land Rover fashion. we would drop off a 110 carcass that Trevor had agreed to buy, work the long weekend to change the chassis, and bring the 90 home on the trailer, so we wouldn't need to finish it roadworthy.
Beers were consumed, food was eaten, a chassis was changed. The only slight fly in the ointment being that 'Ratty' had to be towed off the ferry, after refusing to start.. we never did get to the bottom of why. When we put it all back together, it fired up first time, and has been running sweet ever since.
Old Land Rovers never die they say.. hopefully not yet. But there's still the bulkhead to change…. you up for another weekend Trevor?