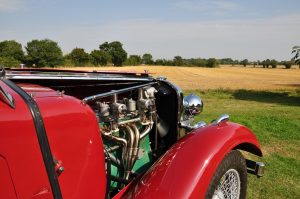 One of the things about doing this job that I find exciting is meeting the people and listening to the stories of their cars.  I suppose the soppy romantic part of me rather likes being invited to be part of the story.  One such vehicle is a rather splendid red Rover 12 owned by Tony Gilbert and his brother Chris…  The car had belonged to their late father, Alan, and had a rather special heritage.
In 1936 the Rover company built the last '12' of the outgoing shape into a special order Sports Tourer for W. P. Maidens, an experienced rally competitor and owner of the Rover dealership in Sleaford, Lincolnshire.  The car competed and finished the Welsh and Scottish Rally in 1937 and competed at the Brooklands speed outing in 1938.  It was lost in history for a while during the war years, and was latterly bought by Alan, in 1964.  By the 1980's, desperately needing a rebuild, the car was dismantled.  Unfortunately, after 2 years, the work faltered.  The car was packed into boxes and distributed around the Gilbert family for safe keeping.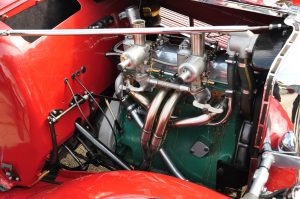 The two brothers hadn't let the car out of their sight during the painstaking rebuild thus far, and had entrusted a part of history with us, to make the exhaust.
Tony's email speaks for itself;
Dan,
Just wanted to let you know how absolutely delighted I am with the manifold and exhaust you have made and fitted to my car over the past few days. As you know, I have spent the last year or so restoring the Rover so it was with some trepidation that, for the first time, I handed her over to someone else to undertake some work. I need not have worried though as the workmanship Demand Engineering offer is superb and the care taken in looking after my pride and joy was evident whoever I spoke to in your team. With that in mind, please give special thanks to the young man (my apologies, very bad of me, but I'm struggling to recall his name) for the skill and detailed attention he applied to my car. I have been over it from front to back and it looks perfect to me. He really is a craftsman who takes pride in his work.
I'm not easily impressed so it is pleasing to find a supplier who does what they say they will and exceeds expectations. Well done Dan and your team. I look forward to seeing you again when we get together at some car events. In the meantime I have some Demand Engineering leaflets, should the opportunity arise to recommend you.
Kind regards,
Tony Gilbert.