It was delightfully surprising to be approached by local company Krazy Horse, asking if we could be involved with a special vehicle build for Channel 4's 'Speed with Guy Martin'.  Of course we had to say yes.
Guy is well known to every self-respecting Petrol Head.  Having set several world records for things such as 'Highest speed on a wall of death' and 'fastest speed on a gravity powered snow sled', it would be very interesting to see what he had come up with.
After meeting with the guys at Krazy Horse, surrounded by lots of expensive looking hand made choppers, and drinking mugs of tea, (in the time-honoured Guy Martin fashion), we found out that he wanted to turn his recently crashed, and beloved Transit van into a racer.  The vision was a machine capable of immense speed, and yet still able to take his motorcycle in the back.  A race in Las Vegas had been chosen, and the van had already been entered.  We'd best get it built then!
Demand had been tasked with designing and building the turbo manifolds and exhaust system for the V6 Ford Eco boost engine that had been lined up for the job.  Custom turbos and dump valves had been sourced, and the guys at KH had the unenviable job of trying to squeeze the engine into the front of the Transit.. oh and at the same time, make it rear wheel drive, change the suspension, fit a roll cage etc..
Due to the time constraints of the fast-approaching race, and the fact that the van was booked on a flight, and we needed a shake-down test session beforehand, every company involved had to hustle with their build.  It was agreed that once the boys over at Safety Devices had finished with the roll cage, then we'd have a short window of opportunity with the van to do our magic, before it was needed back at KH for final assembly.
We made up drawings for the heads, Turbos, and dump valves and had flanges machined, as well as sourcing some 321 stainless tube, and then waited for our turn. As it turned out, getting that massive block into the engine bay was some feat, and there wasn't a lot of room for us to get the turbos, dump valves and associated pipe work through, nevertheless we persevered, and after three long days and nights we had done our part.  We were there at 2 in the morning finishing up the system!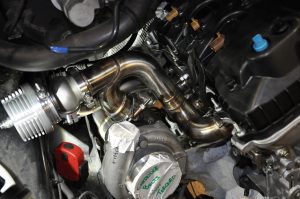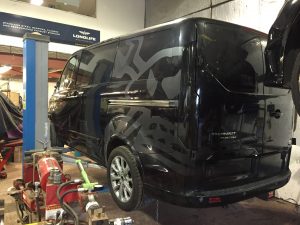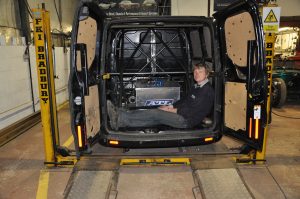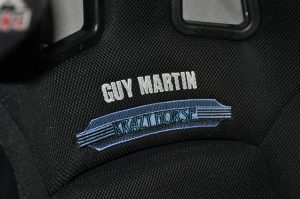 We were invited to the test day at Bruntingthorpe with the rest of the builders to see the van in all her glory, and meet the man himself.  The first part of the day was actually spent with Guy himself,  as the van was held up with Radical, who were doing the engine.  It was interesting to find out he was the same age as me, although I suspect he's done a few more miles.  😉
I was quizzed about making his exhaust, about TIG welding methods, gas, materials, and I joked about Guy wanting to know about what trousers I may have been wearing at the time.  We all stood around drinking tea (of course) and getting rather cold.  People have often asked me since, what he was like, and I have to say, Guy is a genuinely very approachable, (pretty much how you see him on the TV) and it was a pleasure to spend a little time with him talking shop and seeing how a show is made.
When the van did arrive, everyone swung into action, unloading and prepping for the run down the test track.  Once it was fired up, Guy donned his bike helmet, clambered in, and was off for a little spin around the airfield.  After a couple of test runs, they achieved 140mph down the strip 'without even trying'..  everyone breathed a sigh of relief, and as the heavens opened up we headed back to Suffolk.  The next time we would see the van and Guy would be on the Tele.